By Andrew Lichtenstein, President Andrew Lichtenstein, Inc. LichtensteinRE.com
How To Double And Quadruple Real Estate Positive Cash Flow And Defer Taxes Using IRS 1031 Exchange
What do the exclusive seller clients of LichtensteinRE have in common with Albert Einstein and Warren Buffet?
Selling commercial real estate investment property and taking profits off the table is one of the objectives of real estate investing. However without prudent real estate financial planning, depending on which city and state you live in, up to almost 40% of profits will go to city, local, state, and various federal taxes ultimately at the time of the sale.
But thankfully there is a solution that can defer this tax consequence and compound your wealth.
Like The Jeffersons' 1993 "Movin' On Up" theme song, LichtensteinRE has been advising exclusive commercial multifamily real estate seller clients to increase their cash flow substantially so they too can "Move on Up."
Would you prefer to leave a real estate closing table with only 60% of your profit or with 100% of your profit?
It's not a trick question.
The answer is a no-brainer. But every day professional landlords make the error or unnecessarily leaving up to 40% of their hard worked for profits on the closing table.
Warren Buffett the world's richest investor wrote "My wealth has come from a combination of living in America, some lucky genes, and compound interest."
Albert Einstein the most brilliant scientist of the modern age wrote, "compound interest is the eighth natural wonder of the world and the most powerful thing I have encountered. He who understands it, earns it … he who doesn't … pays it."
I am passionate to help my exclusive selling clients realize their investment objectives and to help real estate buyers make the most of their real estate income. I think that the bricks should work for the owner and not the other way around. Real estate should ideally be 24 hour a day cash flow income generator even while the owner is sleeping soundly. It is my dream and objective to help my clients enjoy a better life, better standard of living and thus enjoy greater peace, harmony and quality of life all powered by the services that I provide my clients.
Here's how LichtensteinRE has and can help:
Under the IRS tax code a seller that uses a 1031 facilitator to act as an escrow agent to hold the sale proceeds to purchase "like kind" real estate investment property that is purchased under the same ownership entity that sold the first property can defer 100% of the capital gains and exchange the first property for ownership of the newly purchased property.
We frequently find that clients are looking to exit active, hands on management and exchange into either passive real estate investment, triple net leased property or into property that will be professionally managed producing a higher positive cash flow post sale.
(A)
Here is a conservative example of a typical real estate sale and exchange that LichtensteinRE aims to achieve for its clients:
$5 million commercial real estate property at 4% cap rate producing $200,000 annual net income prior to sale and exchange into a 5% cap rate purchase that will produce $250,000 annual positive net income after the sale. That result is an immediate 125% increase from presale net income.
(B)
LichtensteinRE helped one real estate owners ago to sell New York City property at a cap rate of 4% and buy real estate outside New York City at around 8% cap rate. The result immediately post real estate sale and exchange was that the positive cash flow was 200% compared with the presale positive cash flow. Current positive cash flow 7 years post sale is now 400% that's how to quadruple RE cash flow the presale cash flow due to rental increases etc.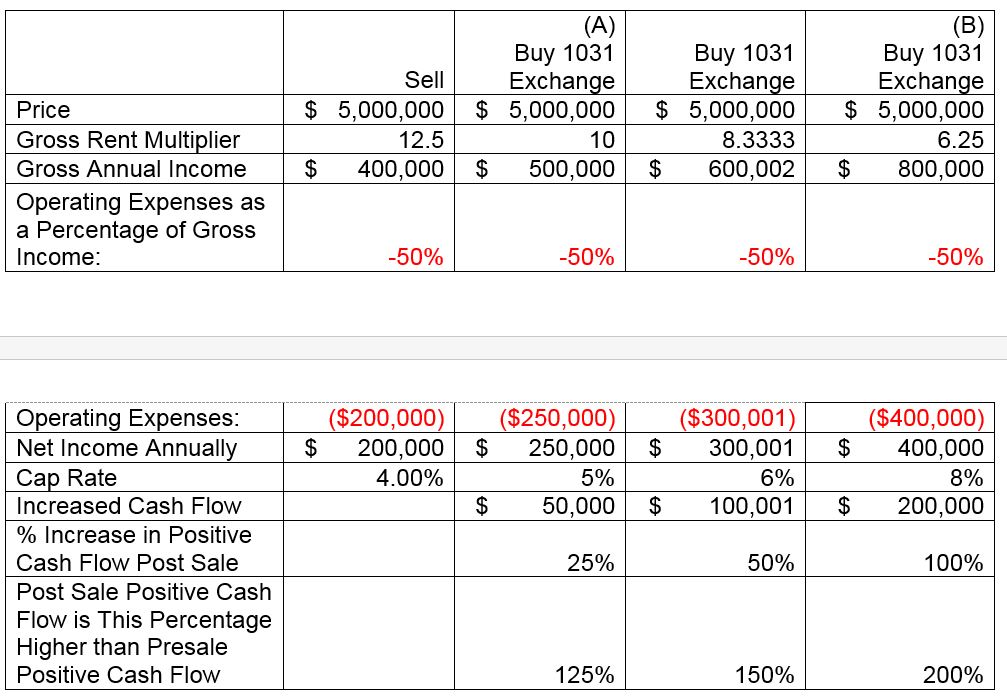 How To Double And Quadruple Real Estate Positive Cash Flow